In Episode 7 of "
Western von Gestern
" (Westerns of Yesteryear), German TV audiences were introduced to Roy Rogers through a 25-minute abridged version of "
Billy the Kid Returns
" (1938), which was
broadcast under the German title "Billy the Kid lebt" on June 23, 1978
.
Info from Wikipedia:
Plot summary
Following the shooting of
Billy the Kid
by
Pat Garrett
lookalike deputy sherriff
Roy Rogers
, assisted by travelling musical instrument salesman Frog Millhouse, takes his place to defend the honest settlers of
Lincoln County
,
New Mexico
from evil ranchers.
Cast
DOWNLOAD the original undubbed movie
(Divx, as multi-part rar-file) (53:20):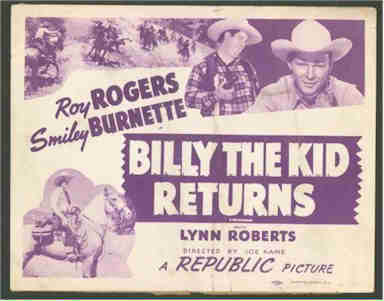 PART 1 (95 MB)
PART 2 (95 MB)
PART 3 (95 MB)
PART 4 (95 MB)
PART 5 (95 MB)
PART 6 (95 MB)
PART 7 (60 MB)
NOTE: You'll need a program like WinZip, WinRar or similar to extract/combine parts.